Wednesday, January 18, 2006
Spice up your life with Penzeys Spices
I don't work for Penzeys Spices and don't get any money for recommending them. I've been a very happy customer for over twenty years - that's why I recommend them!

Penzeys is a great company that goes out of its way to find the best, freshest spices from all over the world. The selection is wide, from a nice fines herbes to wasabi and anywhere in between. Asian, Scandinavian, Italian, Mexican, Indian, Caribbean, African - if you like to cook it Penzeys has a spice for you.

In addition to selling pure spices and herbs, and the expected spice blends, Penzeys has developed many of their own combinations too. My family likes the Chicago steak seasoning for steaks. I use their regular taco seasoning (they make four different kinds) a lot, and rely on their chili powder as a basis for my own, more seasoned chili.

Obviously, a company that sends its people around the world learns a lot about their products. They like sharing that information with their customers, too. Look at this gorgeous display of dried chiles: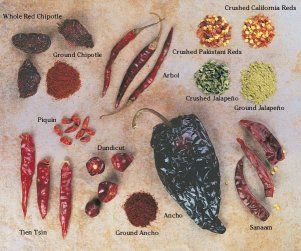 A bigger image, and lots of information on different kinds of chiles, their uses, and a very handy Scoville chart for comparing their heat can all be found on the chile peppers page.

I have come to rely on Penzeys' herbs more than anything else. I still remember the first time I ordered from them - a small test that included Italian oregano, thyme, and sage. They were a small outfit then (this was pre-internet), with a typed catalog and a space on the order form for additional comments. I asked some questions in it (never can stop myself), and was very surprised - and delighted - to find a handwritten note answering each question tucked amongst my jars of herbs! And the flavor in all the spices - it was divine! Much, much better than any brand I've ever bought at a supermarket, and cheaper too. That's usually the case even with shipping figured in.

Penzeys also introduced me to the rapture of freshly ground nutmeg. I've loved that spice as long as I can remember, but hadn't had the real stuff until their catalog tempted me to buy it whole and grind it myself (which is easy, I do it with a small handheld grater). A whole page describes how nutmeg and mace are grown and harvested. Here's a picture (not from the Penzeys site) of nutmeg and mace still partially encased in the peachlike fruit they come from: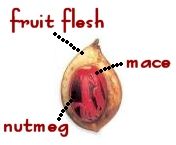 There are so many wonderful things at Penzeys! Aside from the herbs, I have two other Penzeys must-buys. One is their peppermint leaves. They're very flavorful, versatile, and make the cheapest peppermint tea I've found. I also rely on their soup bases - beef and chicken mostly, but I love their ham too - to flavor sauces and gravies. No msg, and not a lot of salt either - you get lots of rich meaty flavor.

I don't use their dried onions, garlic, and citrus fruit peels. I have never found a dehydrated product that I like for those items - it's worth the time to me to get the full flavor and health benefits from fresh onions and such. But if you don't have the time to chop onions every night, or are okay with the reduced flavor of dehydrated spices, you might like them.

Great products, very good customer service (in person, by snail mail, and on the internet - I've done all three), and excellent prices from a dedicated and knowledgeable group of people: Penzeys has it all. I almost forgot to mention - along with the fun stories in the catalog, you can find some wonderful recipes. They even have older catalogs available so you can get recipes from them. But if you can, find a Penzeys store close by and visit it. They have "sniffing jars" of everything so you can smell the wonderful stuff you'll be taking home. I dare you to go to Penzeys and come out empty-handed!

Comments:
Hi there! And welcome to the blog-o-sphere! I love Penzey's spices too - I discovered them about six years ago and have been a loyal customer since. I can't wait to see all that you're going to be posting, especially those Mexican recipes and your adventures in becoming a chocolatier! Best of luck! And another northwesterner...I'll be back!
Hi Michelle, and thank you for the warm welcome! I was hoping to start out blogging better, with more posts, but I didn't figure on how much time it takes!
I used to live near a Penzey's store, and I miss being able to walk there and load up on goodies. That's why I started out with my "Ode to Penzeys!"
Post a Comment
Links to this post:
<< Home