Thursday, March 23, 2006
Kitchen Quiz: What's Your Secret Weapon?
Orangette
recently confessed to
a cooking parlor trick
or secret weapon she uses. Hers is to add an egg - and like me, she hasn't let the food nannies scare her away from a luscious runny yolk!
If I do anything that's like Orangette's trick, it would be adding Tabasco sauce. That lovely ruddy liquid can add a lot to a dish!

Here's a short list of things I regularly put Tabasco sauce in: omelettes; macaroni and cheese; beef stew; basic pasta sauce; some homemade salad dressings; marinades, especially for beef; basic white sauce; cheese sauces; gravies; scalloped potatoes; Italian meatballs; spicy Chinese dishes; Indian dishes that call for chile peppers and I'm out of them.....I think you get the idea!
A small amount of Tabasco sauce will not add a lot of heat to a dish. Especially if the recipe calls for it to simmer for a while. The Tabasco melds with other spices, and adds a subtle brightness to its other flavors. If you want heat, it's easy to do that, just add more Tabasco.
My children were scandalized when they started paying attention to cooking, and saw me adding it to so many things. They wailed that they don't like spicy things (which isn't entirely true). I told them that some of their favorite meals have Tabasco in them....and they tasted them, and sure enough they liked the food! That taught them an important lesson about ingredients and the final flavor of a dish.
A while ago I got wild and bought a bottle of chipotle Tabasco because I love that smoky, warm flavor and wanted to be able to add it to more things, especially Mexican recipes. Well, I love it so much I was putting it in and on top of everything! Enchiladas, scrambled eggs, tacos, hamburgers, steaks....I used it
in
things too, but it became a condiment to me. My small bottle of chipotle Tabasco is almost empty now, and I can't find a store around here that sells it. So sad!
Here's a picture of all the Tabasco flavors made right now: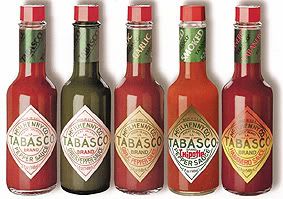 Left to right, they are original flavor, jalapeño, garlic pepper, chipotle, and habañero. I haven't tried any flavors besides original and chipotle.....the habañero is tempting though.
So what's
your
kitchen secret weapon? I'd love to learn more ways to add taste and variety to my food! If you answer this question on your blog, please leave a comment here so we can find your good ideas, and encourage other people to answer the question. Thanks!
Comments:
Hi Queenie!
I SWEAR that I posted a comment yesterday, but I wonder if I got pulled away by some dumb experiment or something...anyway...If you like tabasco (especially that chipoltle) you really should try making that harissa on my site - it's SOO good, I put it in everything now like you do your tabasco! I also really like the green tabasco a bunch too. My secret weapon...hmmm... I don't know that I have one yet! I'm going to have to think about that! Salt? :) basalmic vinegar maybe - I add it to a lot of recipes that don't call for it just because I like it's sweet rich tang.
Post a Comment
Links to this post:
<< Home