Saturday, April 15, 2006
Cochinita Pibil
This is one of the best pork dishes I have ever had. You can think of it as a Mayan version of barbecued pulled pork. And just like American barbecue recipes, there's no one recipe that's right or most authentic. I learned how to make cochinita pibil (pronounced ko-cheen-EE-ta pee-BEEL) from the wonderful women of a large Mexican family I got to know while living in the southern part of the country, and from online research after I was home. Despite being in her 80s, Abuelita (which means grandmother) was an active matriarch, and oversaw the weekly Saturday comida (the main meal, usually served in the early afternoon) for her family. I learned so much from her and her daughters!
Cochinita pibil takes two days to prepare; the meat is covered with a thick paste of seasonings and marinated overnight. It takes some time both days to prepare, so it isn't something you can whip up quickly, but the results are worth the effort. I'll give the recipe and instructions Abuelita used, and include the changes that I make for my family. The recipe is a little complicated too, so please read through it before starting your
mise en place
.
Cochinita Pibil
- from a wonderful Mérida grandmother, with my own changes
Serves 6
All Ingredients:
3.5-4.5 pounds of pork, preferably the loin, with fat
2 oz. or more achiote condimentado (achiote condiment; there are several brands available, or you can make your own - Abuelita didn't
1
)
2-3 t. salt
1-1 1/2 C. Seville orange juice, divided (or approximation of blended citrus juices
2
)
2-5 cloves garlic, crushed, divided
banana leaves or heavy duty aluminum foil
1 medium red onion, very finely chopped
1-3 habañero or other chiles
3
, very finely chopped
4 ripe tomatoes, chopped
1-3 T. chopped cilantro
12-24 corn tortillas
First Day:
Squeeze the orange juice or prepare the juice blend, and set aside. Pierce the pork all over with a fork. Rub about 2 t. of the salt, then 1/4 C. of the juice over it. Set aside while preparing the achiote.
Prepare achiote condiment from scratch or get out a sufficient amount of premade condiment to coat the meat well. If desired, add extra 2-4 cloves of crushed garlic to the achiote, along with the remaining juice, and mix well. Rub the spice mixture all over the pork (you may want to use gloves if you don't want
stained fingers
).
If you have banana leaves, sear them briefly (just to make them flexible) and wrap them tightly to cover the pork. If not, place in a nonreactive container and cover with aluminum foil. Refrigerate overnight. Cover and refrigerate unused orange juice or juice blend.
Serving Day:
Preheat oven to 325° F. Put a rack in the bottom of a Dutch oven or other large oven-safe pot. Pour 1/2 C. juice in the pot; place the pork on the rack. (If using the banana leaves, keep it wrapped in them.) Cover with a tight-fitting lid or heavy duty aluminum foil. Cook for 2 hours, or until tender, marinating the pork occasionally with the pan juices.
While the pork cooks, prepare a salsa with the red onion, chiles, tomatoes, cilantro, 1 clove crushed garlic, about 1/2 C. orange juice or blend, and salt to taste. Mix well and cover. Flavors should be allowed to blend at least an hour before serving. Check and adjust seasonings if necessary before serving.
Roughly shred the meat. Pour the pan juices over it and mix well. Hold, covered, in a warm place if necessary while preparing the tortillas.
Warm the tortillas either by heating them briefly on both sides over a low gas flame, or in a cast iron skillet over medium heat on an electric stovetop. Keep tortillas warm in a clean kitchen towel if you don't have a lidded container to keep them in.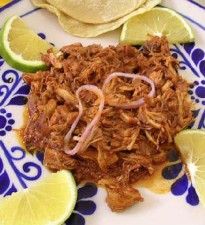 To serve, place about 1-2 T. of shredded meat in the middle of a warm tortilla, and top with salsa. Wrap tortilla around the fillings and eat with your hands - but have a napkin handy, as the taco will be quite juicy. My adopted family serves a salad, rice, and black beans to accompany the cochinita pibil, making a large and very satisfying meal! For our meal, I just served a salad with it. That left plenty of room.....well,
some
room for dessert -
Orangette's vanilla bean buttermilk cake with glazed oranges
. It was a divine way to finish the meal!
But, back to the pibil....doesn't that picture look gorgeous? Okay, I'm busted. Yes, my family was in such a hurry to eat that I didn't get any pictures of my pibil to post. Seriously, you
never
want to stand between hungry teenage boys and their food! I found this picture in a wonderful photo essay,
The Streets of San Miguel
. If you have any questions about the recipe or procedures, just leave a comment and I'll do my best to answer you. Confusion isn't an excuse for not trying this delicious recipe!
-------
1:
I'm pretty sure Abuelita used
El Yucateco brand achiote condiment
, but there are several different brands, and you can go from
buying the annatto seeds to getting a case of achiote
online. Or if you have a Mexican grocery nearby, check it out. It will probably have at least one brand. Every brand I've seen says to use the condiment as is, without adding anything except the citrus juice, but it tastes more like Abuelita's if I add a clove or two of garlic and about 1/4 t. ground cumin. Maybe she added that when I wasn't looking....If you want to make the achiote from scratch,
this recipe from Diana Kennedy
is very good.
1 rounded T achiote seeds
1/4 tsp cumin seeds
1/4 tsp Mexican oregano
12 peppercorns
3 whole allspice
4 cloves garlic, peeled
1/8 tsp powdered chile seco (may substitute hot paprika)
Grind the achiote seeds, cumin, oregano, peppercorns, and allspice together to a fine powder. Crush the garlic together with the chile seco, salt, and add 3 T. orange juice or juice blend; mix with the other powdered spices. The mixture should be a thick paste. (
Back to recipe
)
2:
If you don't have Seville oranges, and most likely you won't, here's a very good equivalent. Mix all the following together to yield about 1 cup of blended juice:
2 tsp. finely grated grapefruit peel
6 T. orange juice
6 T. grapefruit juice
4 T. lemon juice
4 T. lime juice
(
Back to recipe
)
3:
Habañero chiles are very hot! Unless you know you like hot salsas, use only one habañero, or substitute one or two jalapeños. That's what I do, and it makes a peppy salsa that isn't too hot for anyone in our family to enjoy. (
Back to recipe
)
Comments:
Oh yay! You posted it! I've been looking forward to trying this...we both love Mexican food, but I don't know how to cook very much of it, and I'm even more excited to try one I already know is going to be delicious! Thank you thank you thank you!
Post a Comment
Links to this post:
<< Home