Friday, July 28, 2006
Why Has Shopping, and Eating, Gotten So Hard?
I just finished reading an article that my mom told me about,
Is buying local always best?
The very first paragraph made me think, because it puts the whole issue of buying stuff into moral terms. I'm not ready for that kind of responsibility.....I just want to make good food for my loved ones, not be responsible for the success or failure of some farmer around the corner or across the world.
And that's what really gets to me, having that kind of thinking pushed on me so that every time I go shopping or start cooking, my head starts to spin with images of poor Indians harvesting
turmeric
or
kari leaves
and American farmers growing corn or raising cattle and barely holding on to their farm. Each of them does something valuable for me. Can't I just buy the food I need or like from them without a guilt trip no matter which one I choose?
Don't get me wrong, I admire people like
Lucette, the vintage cook
who try eating locally and discover new things like
ramps
and
purslane
. I wish I had more time to explore for things like that here. But I'm not willing to let eating local put limits on what I can eat. I'll probably never live in a place that grows vanilla or cacao beans, and there's no way I'll ever give up vanilla or chocolate just because they need to be harvested and processed someplace else. Especially not when my daughter's gluten intolerance means getting creative with other ingredients so that she can enjoy cakes and cookies. And I absolutely love getting to try new things from all over the world. I remember when it was a very special treat for my gramma to get some lingonberries from her home country. I was lucky if I got one taste from those small jars....And now I can get lingonberry preserves from Ikea and
make delicious things with it
pretty much whenever I want!
I don't like the big box stores very much, but with a large family and a fairly tight budget, Costco and WalMart are sometimes the only way we can get everything we need. I wish I could buy meat locally, but I wouldn't be able to buy enough for all of us if I did. The big-box places don't always have what I want, especially odd produce and ethnic ingredients, so I try to find a local store or go online for those items. And what about the local families that depend on those places for jobs? It just isn't a simple situation.
I'm not really sure what my point is, maybe I need another cup of coffee to wake my brain up before I'll find one....but the article has some good points about possible downsides of the keep-it-local movement that are worth thinking about. It's hard enough buying food for everybody in my family without getting all worried about being moral. The way I see it, anybody that's trying to make an honest living is worth doing business with, at least once. And if I'm ever able to get my own home business going, I hope that, and the quality of my items, are the main things my customers think about.
Thursday, July 20, 2006
Playing Hooky with Dinner
My kids are really good eaters. They understand the basics of nutrition and aren't afraid to try things. But, they also have an uncle that is kind of lazy in the cooking department. He's been known to have just popcorn for dinner, and they love that idea. My kids also understand the importance of good timing.
The past couple of weeks have been pretty stressful for me. I'm trying to do too many things, and I have a deadline approaching on a writing job that I'll get paid for (a little, but it's better than nothing!). I want to try so many new recipes for dinner that when I go shopping, unless I keep to my list I end up way over budget and with a spinning head, trying to remember what I have at home and what yummy-sounding recipe called for something exotic that just happens to be tempting me at the moment.....Where was I? Oh yes, my kids and good timing. Well, a few days ago when I read
Kitarra's
recipe for
gingered-mango habañero sauce
I
knew
I had to try it. It brought back so many wonderful memories of Mexico, and teased me with a new combination of tastes. And her suggestions for using the sauce! Who wouldn't be tempted by a sauce that works as a marinade, a dipping sauce, and as a dessert topping? Not me, that's for sure!
So, there we were at the grocery yesterday, and I see that the mangoes are lusciously ripe. I can't resist! And I had the ingredients for Kit's sauce memorized already....limes, easy enough.....ginger's already at home.....but what about a habañero? The store doesn't have any fresh ones. A jar of pickled ones, for $4, or some dried, at just over $1? Dried it is. And the last item: a big bucket of decent vanilla ice cream.
I improvised a bit on her recipe, as you'll see if you check hers out and look at mine below, and give hubby a taste. He's not big on real spicy stuff, but this doesn't seem too spicy to me.....but he doesn't like it. Uh-oh.....I'm going to be the only one eating this big batch of sauce! But then my son asks for a taste, and after explaining to him that it's spicy, he still decides to try it (he loves mangoes). He likes it! I'm amazed!
Then he and his sister do exactly what I'm hoping for......they ask for a popcorn dinner. I can do better than that! But I'm not going to tell them that....I whip up another ice cream topping, then start on the popcorn.
I despise that microwaved, artificially-flavored and -colored crap. I like it the old-fashioned way. I haul out my big stockpot, the one with a clear lid, and the peanut oil. I pour in a bunch of oil and get it heating while my son gets two sticks of butter from the fridge. Once the oil's hot, in go the white popcorn kernels, and the kids are having a blast watching them darken, then explode as the water inside each kernel turns to steam and escapes. The butter's melted and mixed into the huge bowl of popped corn, and I dust it with my treasured French gray sea salt. We settle in front of my computer to watch some videos, and everybody's happy.
At a break, I slip back into the kitchen to prepare the surprise "second course", the ice cream. Only my daughter declines trying Kit's mango-habañero sauce on her ice cream - it was too hot for her. Hubby says it's not as hot on the ice cream, but he's skeptical of a hot sauce as a dessert topping. He says it sounds better as a marinade for chicken or fish. To my surprise, my son loves it and gobbles it up, as do I. Kit has truly created a wonder in this sauce, and I'm dying to see if I can come up with a way to make a good truffle flavor out of it.
So we had a very fun, very relaxing dinner last night. The kids think they got away with something, I was happy to let them think that and to get an easy night in the kitchen, and hubby....well, I have some chicken breasts thawing already. Maybe he'll like the sauce better tonight. But he sure wasn't complaining last night either. Okay, so we didn't have the most nutritious dinner ever, but we all had fun, and that's important too.
Gingered Mango-Habañero Sauce
- slightly modified from
Kitarra's excellent recipe - and do check out her beautiful photos of it!
4-6 ripe mangoes, peeled and pitted (4 if large, up to 6 if small OR if you want a milder sauce)
1 ripe habañero pepper, fresh or dried
1/2 C lime juice
3-inch piece of ginger, grated
1/4-3/4 C raw sugar
1-2 C water
Wash the pepper if fresh, then remove the stem. If dried, soak the pepper in 1 cup of hot water until soft, then remove stem. If a milder sauce is desired, remove the seeds from the habañero. Chop the pepper in a blender or food processor until it's in fine bits. Add the mangoes and ginger to the processor and process until the mixture is completely smooth.
Pour the mixture into a medium saucepan; add the lime juice, 1/4 C of sugar, and 1 C of water; mix well. (If using a dried habañero, you can use the soaking water, or for a less hot sauce, use fresh water. I used my soaking water.) Bring to a boil on medium low heat, stirring occasionally until the sauce has thickened to your liking. This should take between 30-45 minutes. Taste the sauce and adjust the sugar if necessary. (As Kitarra points out, the sugar helps offset the pepper's heat...but the sauce shouldn't be overly sweet.)
My notes
: The dried habañero seemed to work just fine, but was probably harder to process than a fresh one. I found several unchopped seeds while I was cooking the sauce, and just removed them. I know I'll be making this again, so I'll make sure to try it with a fresh pepper next time! I also didn't have alot of raw sugar, just 1/4 C. My sauce needed more sugar than that, so I used some dark brown sugar instead. It deepened the lovely orange color a bit, but gave the sauce a nice depth of flavor. Next time I'll just use it, since I don't regularly buy raw sugar. Last, this recipe depends on ripe, juicy mangoes, so if you can't get them, don't bother. In Mexico, I learned an easy way for getting as much goodness as possible from the fruit. Once you've cut off all the flesh you can from the pit, take the pit in your hand and squish it round and round, like you'd turn a slippery bar of soap in your hand. You'll be surprised at how much juice you get!
Lightly Brandied Fresh Cherries
- My second ice cream topping, which was also a hit, even though I just tossed it together
About 2 dozen ripe fresh cherries, washed, stemmed, pitted, and halved
2-3 T. dark brown sugar
about 30 mL good brandy (I used VSOP)
1/4-1/2 t. ground cinnamon, or to taste
Stir sugar into cherries and allow to sit for a few minutes. Add brandy and cinnamon; mix well and allow to sit at room temperature so that the flavors meld. I discovered as I was putting the leftovers away that it had continued to improve after we'd had our ice cream, so I'd guess that about 2 hours of rest would be best. I used Penzeys Ceylon cinnamon for this, because it has a brighter flavor that complemented the cherries very well.
Thursday, July 13, 2006
Glory of Glories: Basil
Summer is the season of glory. Glorious sun, gloriously long, carefree days, glorious colors, and of course, glorious fresh food. The past several years I haven't been able to have any kind of garden, but this year I insisted and planted a small herb patch with the help of my children.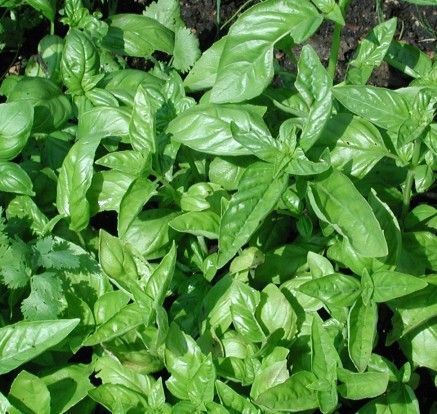 It was a fun challenge, settling on just four herbs to put in our sunken container. The first slot was easy and unanimous: we
had
to have basil. My children love that gloriously green herb almost as much as I do - they've even been known to sneak a nibble from it when passing by. As long as we have a good crop, I never complain....this wonderful herb has
many health benefits
, especially when consumed fresh. And there's nothing fresher, or better, than homegrown organic basil! So, again, I didn't complain when my son sowed the seeds pretty thickly - we all wanted a good crop. And boy did we get it!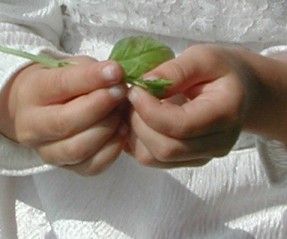 I was a little slow about thinning it, but the plants don't seem too unhappy in their crowded condition. The kids didn't want to see any plants die, but when I offered to make pesto out of the ones that were culled, their
basil reverence
lost out to its divine taste. Heck, they even helped thin it, then pluck the leaves off the stems. My daughter was especially cute in her princess dress, now too small but too loved to give up, her little fingers busily working. When she asked for my "basil and chicken pasta", how could I say no? It's a great twist on the old standard of using pesto as a pasta sauce. I don't remember where I first found my recipe, but I've tweaked it some over the years, trying to get it perfect. I'm not there yet, but it is very good.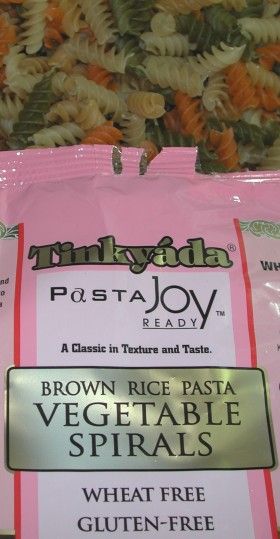 One of the best things about this recipe is that it's easy to make gluten free for my daughter. The sauce is thickened with a bit of cornstarch and melted cheeses, so no substitutions are necessary. And the pasta? Also easy, thanks to
Tinkyada rice pasta
. We've tried a lot of gluten-free pastas, and this one is one of the best. The brown rice pasta spirals are great for catching tasty sauces like this one, and the colors have both kids begging for samples before they're even cooked. So even though making the pesto is time consuming, and the recipe itself requires a good
mise en place
before coming together fairly quickly, it's well worth doing.
Glorious, even.
Basil Pesto
2 C. fresh basil leaves, tightly packed
1/4 C. toasted pine nuts (or walnuts, if preferred)
3 cloves garlic, minced
1/4 C. freshly-grated good quality Parmesan or Romano cheese
1/2 C. extra-virgin olive oil
Work with about a third of all ingredients in batches and be diligent about scraping down the sides of your processor for best results. Whirl basil leaves in a food processor or blender until thoroughly chopped. Add pine nuts and garlic and whirl again. Add cheese; while blending, slowly add enough oil to bring the mixture together into a smooth paste. Repeat until all ingredients have been processed; mix batches and stir well. Add salt and pepper, if desired. Set aside; or if made in advance, cover and refrigerate.
Pesto Pasta with Chicken
Serves 4-6
4 oz. sun-dried tomatoes, chopped
12 oz. chicken broth
4 skinless, boneless chicken breasts, cut into bite-sized nuggets
1 T. olive oil
2 cloves of garlic, minced
2 t. corn starch
1 recipe pesto (5-6 oz.)
2 oz. toasted pine nuts
8 oz. feta cheese, crumbled
2 oz. fresh basil, chopped
16 oz. fusilli or similar pasta, cooked and drained
salt and pepper to taste
freshly grated Parmesan cheese
Soak tomatoes in chicken broth to help soften them. Set aside. Prepare pasta while setting up the chicken and sauce; drain and set aside, covered, if it finishes before the sauce is done.
Heat oil in heavy skillet over medium high heat. Cook chicken, shaking pan or stirring occasionally to lightly brown pieces evenly (you may need to do this in batches). Reduce heat to medium as last batch of chicken finishes cooking.
Remove 2-3 T. of chicken broth from tomato mixture, and stir cornstarch into it. If necessary, return all cooked chicken to the skillet; add tomato mixture, pesto, and pine nuts. Bring to a boil, then stir in cornstarch mixture and allow to thicken. If you want all the feta cheese to melt, add it, reduce heat to medium low, and stir until it's incorporated into sauce. Remove from heat. If you prefer small chunks of feta (which we do), turn off heat first, then stir in feta.
Pour chicken and sauce over pasta and stir well to mix. Sprinkle chopped basil over dish and stir again. Check seasonings and add salt and pepper to taste. Serve hot, passing grated Parmesan cheese for those who wish to add it.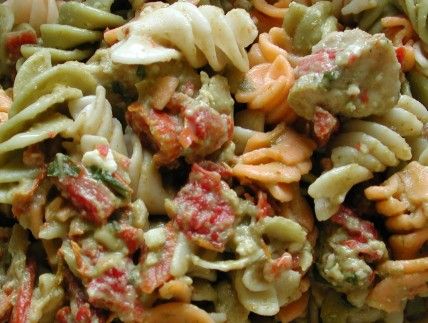 The nuts add a nice depth to both the pesto and the pasta sauce, so this dish is best with them in both components. Walnuts are an acceptable substitute in both if you don't like pine nuts; and while it's good without any nuts, it really isn't the same. Hubby forgot to get them, as you can see from the photo, but the promise of a repeat later this summer made it easy to forgive him. He doesn't like the chewy texture of the sun-dried tomatoes, but I keep forgetting to test a substitution of fresh tomatoes. I don't see any reason why that wouldn't be good too. They're another of summer's glories, after all!
This post has been submitted to
Weekend Herb Blogging
, which is being hosted this week by
Kalyn
herself.