Thursday, July 13, 2006
Glory of Glories: Basil
Summer is the season of glory. Glorious sun, gloriously long, carefree days, glorious colors, and of course, glorious fresh food. The past several years I haven't been able to have any kind of garden, but this year I insisted and planted a small herb patch with the help of my children.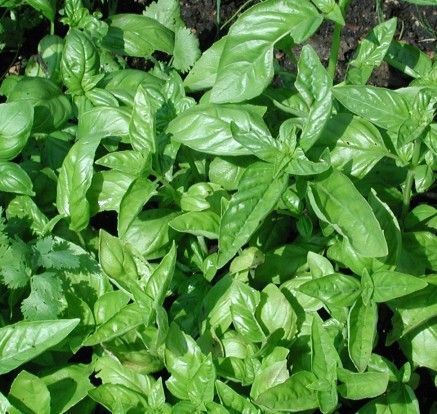 It was a fun challenge, settling on just four herbs to put in our sunken container. The first slot was easy and unanimous: we
had
to have basil. My children love that gloriously green herb almost as much as I do - they've even been known to sneak a nibble from it when passing by. As long as we have a good crop, I never complain....this wonderful herb has
many health benefits
, especially when consumed fresh. And there's nothing fresher, or better, than homegrown organic basil! So, again, I didn't complain when my son sowed the seeds pretty thickly - we all wanted a good crop. And boy did we get it!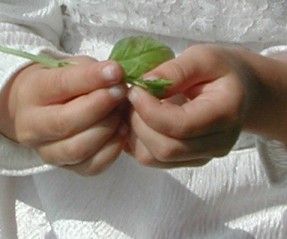 I was a little slow about thinning it, but the plants don't seem too unhappy in their crowded condition. The kids didn't want to see any plants die, but when I offered to make pesto out of the ones that were culled, their
basil reverence
lost out to its divine taste. Heck, they even helped thin it, then pluck the leaves off the stems. My daughter was especially cute in her princess dress, now too small but too loved to give up, her little fingers busily working. When she asked for my "basil and chicken pasta", how could I say no? It's a great twist on the old standard of using pesto as a pasta sauce. I don't remember where I first found my recipe, but I've tweaked it some over the years, trying to get it perfect. I'm not there yet, but it is very good.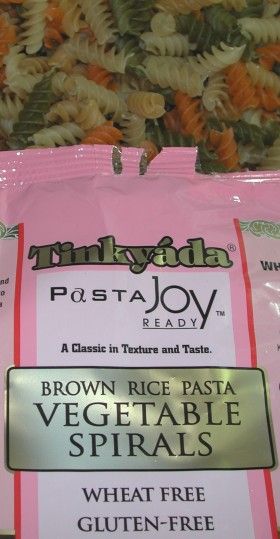 One of the best things about this recipe is that it's easy to make gluten free for my daughter. The sauce is thickened with a bit of cornstarch and melted cheeses, so no substitutions are necessary. And the pasta? Also easy, thanks to
Tinkyada rice pasta
. We've tried a lot of gluten-free pastas, and this one is one of the best. The brown rice pasta spirals are great for catching tasty sauces like this one, and the colors have both kids begging for samples before they're even cooked. So even though making the pesto is time consuming, and the recipe itself requires a good
mise en place
before coming together fairly quickly, it's well worth doing.
Glorious, even.
Basil Pesto
2 C. fresh basil leaves, tightly packed
1/4 C. toasted pine nuts (or walnuts, if preferred)
3 cloves garlic, minced
1/4 C. freshly-grated good quality Parmesan or Romano cheese
1/2 C. extra-virgin olive oil
Work with about a third of all ingredients in batches and be diligent about scraping down the sides of your processor for best results. Whirl basil leaves in a food processor or blender until thoroughly chopped. Add pine nuts and garlic and whirl again. Add cheese; while blending, slowly add enough oil to bring the mixture together into a smooth paste. Repeat until all ingredients have been processed; mix batches and stir well. Add salt and pepper, if desired. Set aside; or if made in advance, cover and refrigerate.
Pesto Pasta with Chicken
Serves 4-6
4 oz. sun-dried tomatoes, chopped
12 oz. chicken broth
4 skinless, boneless chicken breasts, cut into bite-sized nuggets
1 T. olive oil
2 cloves of garlic, minced
2 t. corn starch
1 recipe pesto (5-6 oz.)
2 oz. toasted pine nuts
8 oz. feta cheese, crumbled
2 oz. fresh basil, chopped
16 oz. fusilli or similar pasta, cooked and drained
salt and pepper to taste
freshly grated Parmesan cheese
Soak tomatoes in chicken broth to help soften them. Set aside. Prepare pasta while setting up the chicken and sauce; drain and set aside, covered, if it finishes before the sauce is done.
Heat oil in heavy skillet over medium high heat. Cook chicken, shaking pan or stirring occasionally to lightly brown pieces evenly (you may need to do this in batches). Reduce heat to medium as last batch of chicken finishes cooking.
Remove 2-3 T. of chicken broth from tomato mixture, and stir cornstarch into it. If necessary, return all cooked chicken to the skillet; add tomato mixture, pesto, and pine nuts. Bring to a boil, then stir in cornstarch mixture and allow to thicken. If you want all the feta cheese to melt, add it, reduce heat to medium low, and stir until it's incorporated into sauce. Remove from heat. If you prefer small chunks of feta (which we do), turn off heat first, then stir in feta.
Pour chicken and sauce over pasta and stir well to mix. Sprinkle chopped basil over dish and stir again. Check seasonings and add salt and pepper to taste. Serve hot, passing grated Parmesan cheese for those who wish to add it.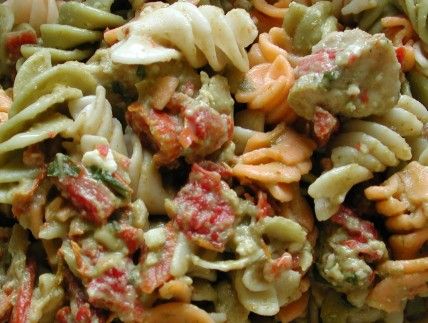 The nuts add a nice depth to both the pesto and the pasta sauce, so this dish is best with them in both components. Walnuts are an acceptable substitute in both if you don't like pine nuts; and while it's good without any nuts, it really isn't the same. Hubby forgot to get them, as you can see from the photo, but the promise of a repeat later this summer made it easy to forgive him. He doesn't like the chewy texture of the sun-dried tomatoes, but I keep forgetting to test a substitution of fresh tomatoes. I don't see any reason why that wouldn't be good too. They're another of summer's glories, after all!
This post has been submitted to
Weekend Herb Blogging
, which is being hosted this week by
Kalyn
herself.
Comments:
Fabulous job on this. I loved hearing about how your children like basil. Personally I can't imagine how anyone could not like it, but I know some people don't. Your pasta dish sounds like something I would love, and I could use low carb pasta to make it work for my own way of eating. Thanks.
Post a Comment
Links to this post:
<< Home